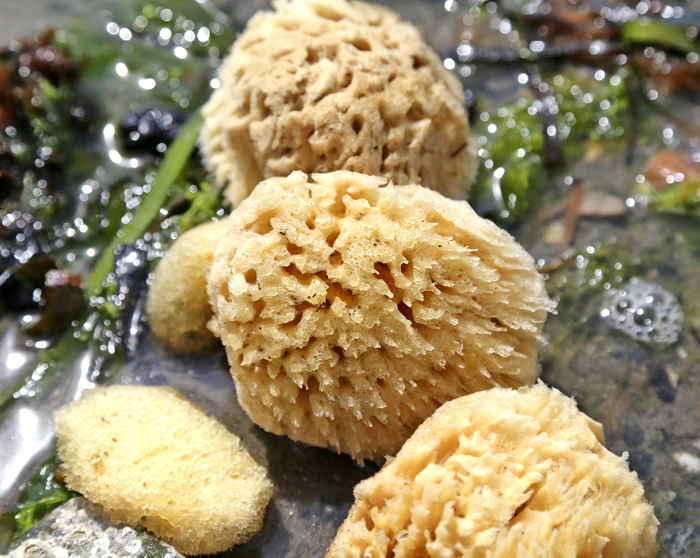 If you haven't tried sea sponges, you're in for a treat. They're used in soap because they create amazing lather – no washcloth necessary.
Note: These sponges have been discontinued. The following information can still be used for your projects.
Where they're from
There are more than 5,000 species of sea sponges that grow in both polar and tropical areas. The wool sponge comes from the Bahamas, and the silk sponge comes from the Philippines.
Before the sea sponges make it to homes all over the world, they're harvested by specially-trained divers. They use hooks to remove the sponges from rock and coral and then bring them back up to the boats. Workers run a string through and hang them to dry. The sponges are covered in a black film, but exposure to the sun causes it to dry and fall off. Then, the sponges are washed a few times and prepared for shipping.
The best part about that process is it's sustainable. The divers don't cut all the way down to the rock, which means the sponges will grow again. Once they're harvested, divers move so it doesn't overburden one area.
It's a similar method used by our vendor when they first started. They've been diving for sea sponges since the 1940s. Employee Jim said his father, George, would dive for the sponges near a small island called Lemnos in the north Aegean Sea. George and his brothers would gather people from the town and go out on the boats for a week, collecting as many sponges as they could.
"They'd bring them in and sell them throughout Greece," Jim said.
In the 1950s, George moved to the United States. His brothers shipped the sponges from Lemnos and he would sell them across the country. George is still active in the family business today, and Jim has been working with him since 1975.
How to use them
The sponges can be used to clean windows, apply wallpaper glue, apply paint, and more. Of course, we love them in bath products.
The silk sponge is small, slightly firm, and about 1.5-2″ across. The wool sponge is softer, larger, and about 3-3.5″ across. Both have a luxurious, soft feeling on the skin.
They're super easy to use. First, pour soap into a mold. Melt and pour needs to be around 130-135° F and cold process needs to be at a thin/medium trace. Place the sponges in the soap securely and make sure to leave a portion sticking out of the bars so it creates lather. You can cut the sponges to fit if necessary.
Inspiration
We show you how to work with them two ways. The Sea Sponge Melt and Pour Soap is nice and simple. Clear Melt and Pour Soap Base is colored with jagua blue extract and scented with Midnight Waters Fragrance Oil. That's poured into the 6 Bar Oval Silicone Mold and topped with a wool sponge.
The Sea Sponge Cold Process Soap is made with the smaller silk sponge. They're embedded into swirly soap made with jagua blue extract and Sea Salt Fragrance Oil.